What do you think our friend, Lego, is doing?
Poem? Story? Haiku? Question? What does this picture bring to your mind?
Join the fun by writing your thoughts in the comments below.
Please note that we will be taking the next couple of weeks off from Wordless Wednesday. Expect our Word of the Week posts (on Mondays) as well as the new episode of The Write Chat - this Friday!
We have been sharing some of our books from our
Advent Book Tree
, over on Facebook.
Click here to view them
. If you are doing this, too, we would love to see your photos.
As always, we are excited to participate
in some
Wordless Wednesday
Blog Hops.
We encourage you to visit them as well.
Thank you to all of the fabulous hosts!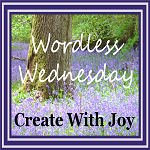 Thank you for reading and sharing,