Lego is filling in as the Advent Book Tree Librarian...how do you think he feels about his new position?
Poem? Story? Haiku? Question? What does this picture bring to your mind?
Join the fun by writing your thoughts in the comments below.
As always, we are excited to participate
in some
Wordless Wednesday
Blog Hops.
We encourage you to visit them as well.
Thank you to all of the fabulous hosts!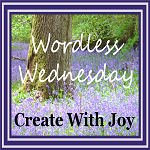 Don't forget that the KidLitBlogHop is going on right now... a fab place to find new reads for your kiddos (and you). Scroll to the bottom of the post to view the fab linky - AND we invite you to link up your own #literacy posts.
Thank you for reading and sharing,