We are thrilled to have the paw-riffic Tom Angleberger here to introduce the Word of the Week.
Even more exciting, we have a double dose of Origami Yoda this week! Mr. Angleberger is also the guest on this month's episode of The Write Chat - out on Friday. Yippee!
Thank you, Mr. Angleberger, for introducing this week's
Word of the Week:
EMBARK
.
Be sure to connect with Origami Yoda, below.
Can you use the word EMBARK in a sentence?

This post has been included in: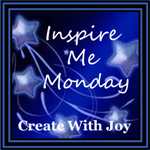 We are most creative with our videos.
How are you creative this week?
Find great homeschooling blog posts.
Thank you for reading and sharing,