We are thrilled to have th
e paw-some

Pamela Hall, founder of Literate for Life, here to introduce the Word of the Week. Her website, Facebook page and Twitter feed is filled with all things literacy. Thank you, Pamela, for introducing this week's Word of the Week:

SENTIMENT

. Be sure to connect with Pamela, below.
Can you use the word SENTIMENT in a sentence?
Pamela Hall,
Our Guest Spots are filled for the entire School Year.
This post has been included in: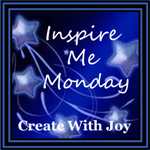 We are most creative with our videos.
How are you creative this week?
Find great homeschooling blog posts.