We are thrilled to have the paw-some creators of the picture book Bubblegum Princess, Julie Gribble & Lori Hanson, here to introduce this week's Word of the Week. Be sure to scroll down and

enter the giveaway

that Julie & Lori have offered to our Word of the Week supporters - you may enter for a chance to win a copy of their book: Bubblegum Princess!
We give Lori & Julie a special paws-up, as they jumped in as fill-ins for this week's word. Be sure to watch their
majestic video
, as they are the
epitome of Word of the Week
guests.
Thank you, Julie and Lori, for supporting literacy and for introducing this week's
Word of the Week:
SKYLARK
.
Can you use the word SKYLARK in a sentence?
Connect with our guests, Julie & Lori:
Julie Gribble
Author
Founder & President of KidLit.TV
Lori Hanson

This post has been included in: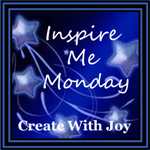 We are most creative with our videos.
How are you creative this week?
Find great homeschooling blog posts.
Thank you for reading and sharing,
Did you catch the
newest episode
of
The Write Chat
, where Erik and Felicia interview author Jennifer Lynn Alvarez
?