This is a bittersweet week for us, as our young author has moved on to other projects. Therefore, we will not return with Word of the Week videos next school year. At least, it isn't in the plans for us as of right now. Thank you for your paw-some support of this fantastic literacy initiative. We have enjoyed working with you all!
Now back to this important week... Courtney, our guest, and author of the
Stella Batts
series for young readers, is joined by her friend, Brody, to introduce the word elated to us.
Thank you, Courtney and Brody for introducing this week's
Word of the Week:
ELATED
.
Can you use the word ELATED in a sentence?
Courtney Sheinmel
Author

This post has been included in: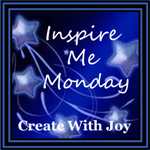 We are most creative with our videos.
How are you creative this week?
Find great homeschooling blog posts.
Thank you for reading and sharing,
Did you catch the entertaining
new episode
of
The Write Chat
, where Erik and Felicia interview author and illustrator Tom Angleberger
?